Success Stories: Chapter 12 – Breast Care for Washington, DC
posted on March 27, 2020 by
Breast Care for Washington DC (BCW) was founded in 2012 as a community-centered breast cancer screening organization to enhance access to breast cancer screening and care among medically underserved women in the Washington, D.C. area. Since that time, the organization has provided care to over 7,000 women and diagnosed a total of 64 breast cancer cases.  Patient navigation, both into screening and for any follow up required, is a key element of the services provided and central to care coordination for the best possible patient health outcomes.
The primary goal of Breast Care for Washington remains making breast cancer screening readily available and accessible to all women, especially those who receive their care from community health systems or do not have the resources to be seen elsewhere.
Recently, RAD AID International donated a brand new vehicle to Breast Care for Washington. This donation made it possible for BCW to bring services to even more underserved and uninsured women in Washington, DC and the surrounding area. The first new screening site was located in the parking lot of a former full-service hospital, which now only offers patient wellness services.
Breast Care for Washington has developed a strong working partnership with Providence/Ascension Health to bring mammography back to their patients via the mobile modality. Breast imaging is not offered in the medical complex.  Providence's long-term patients, many of whom are elderly, have embraced the continuation of breast imaging at the facility and expressed appreciation to be able to continue to receive this service on site instead of having to travel to another facility in the District.
The mobile unit makes 3 or 4 screening visits per week, with a goal of providing care to 100 women per month. On the first day of operation, BCW had three "walk in" patients who came because they saw the mobile unit in the parking lot. One patient remarked that she had not had a mammogram in 10 years because she did not have time to go to a facility. She knew that she needed a mammogram and when she saw the unit in the parking lot, she decided to just walk in and see if one was available.  BCW was happy to provide her with care. BCW anticipates a possible higher call back number, given the higher incidence of stories such as this. This conversation particularly illustrated the impact the mobile unit can have in expanding access to mammograms.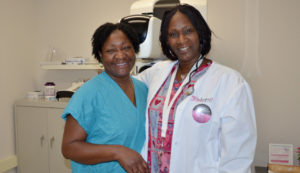 Another patient came in for her first mammogram and told the nurse that she was never told that she should get a mammogram at the age of 40. She was very nervous and afraid because she did not know what to expect. After getting her mammogram, she said, "It wasn't bad at all and I will return next year". The staff made her feel comfortable and the technician made her laugh a lot. The patient concluded: "You all are doing great things for the community".
There are many instances where a woman sees the bus and decides to board it to seek care.
A woman living in her car with her dog in the parking lot where the mobile unit was parked saw the bus and decided to board it to get care.
An airline employee took advantage of the mobile unit parked outside the terminal in partnership with American Airlines and thanked Breast Care for Washington profusely for making screening convenient to her job and allowing her to have her first mammogram in five years.
A woman in her 80's in northeast DC saw the mobile unit in her neighborhood, stopped the staff, and asked them to help her board the bus so she could have her first mammogram in 20 years.
Over 50% the women getting care on the mobile unit are experiencing their first ever mammogram and many of the remainder have not had a mammogram in 5 to 10 years.
"These stories are typical of many of the patients we see on the mobile unit," said BCW's mobile unit nurse manager. "We feel like the core of the impact we are making is in establishing access to screening and early detection where none existed before through our partnerships with primary care providers and other community partners."
In addition to the mobile unit, BCW continues to provide mammograms and treatment at their main facility in Ward 8. The patient navigator at the facility worked with "Imelda" who lives in a homeless shelter.
Success Story #1
Imelda found a lump in her breast and was aware there was a problem but was not sure where to go. Imelda knew she had a problem that needed care. She was connected to BCW through their partnership with Bread for the City, an organization in D.C. dedicated to fighting poverty. Complicating her situation, Imelda did not own a phone. This limited communication with her to only when she was able to borrow someone else's phone. Imelda contacts Breast Care for Washington any time she is able to get phone access and the staff works to accommodate her when she can reach out.

BCW arranged transportation to their facility for diagnostic imaging and provided her with a biopsy. The organization also arranged for Imelda to travel to Georgetown to have her treatment. As Patient Navigator Emily Gurdon shared, "We don't give up on people. We will work with them no matter what to ensure they get the care they need."
Emily Gurdon and Breast Care for Washington are unique in the DC area for the services they provide to their patients. In our next story, Ms. Gurdon changed the life of "Myra", a single mother of three from Virginia.
Success Story #2
Myra lacked health insurance. When she discovered BCW, she was able to have a routine screening mammogram, which revealed an abnormality. Unfortunately, follow up diagnostic imaging, provided free of charge by BCW, led to a breast cancer diagnosis.

Realizing Myra was overwhelmed by this diagnosis, combined with the burden of caring for three children, patient navigator Emily Gurdon went to Myra's house and helped her fill out financial resource forms. Emily navigated Myra to the charity cancer care program at Inova for her treatment. Myra remained in close touch with Emily through her oncology care and kept returning to Emily for help navigating her cancer journey. Emily shares that, "People continue to lean on us and we continue to provide assistance to them as they navigate across their continuum of care." With Emily's help, Myra successfully completed her cancer treatment at Inova and they remain in touch.
Breast Care for Washington, through its network of 12 partners, is bringing mammography screening to a wide geographic area extending from Maryland, through DC, and Northern Virginia. Their work has made getting mammograms as easy as possible for a large target population. The Qlarant Foundation has increased its support of Breast Care for Washington, providing a $40,000 grant award for 2019-20 after two previous $25,000 grants. "We are impressed by this organization's dedication to making breast cancer screening available to all women and its commitment to follow through to ensure that they receive additional treatment as necessary", said Molly Burgoyne-Brian, Chair, Qlarant Foundation. "We are honored to be a partner with Breast Care for Washington in this endeavor."
**UPDATE**
On March 26, 2020, Qlarant announced that Breast Care for Washington, DC has received an additional $2,000 to enable them to provide even more uninsured women with screening mammograms and diagnostic follow-up.