Qlarant Hosts Annual Grant Awards Event
posted on July 12, 2018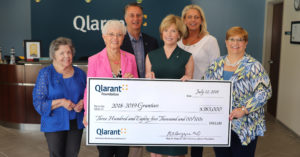 $385,000 in Grants Given to Maryland and D.C. Organizations
July 12, 2018, Easton, MD – Qlarant Foundation, the philanthropic arm of nationally recognized program integrity and quality company, Qlarant, has awarded charitable grants to fourteen Maryland and District of Columbia organizations seeking to improve health equity. Members of the Board of Directors for Qlarant Foundation held a reception for the 2018 Qlarant Grant Awards.
"Giving out these grants is so gratifying," said Dr. Molly Burgoyne-Brian, Board Chair for Qlarant Foundation. "This is the 11th year that we have provided these grants to the community and each year it gets better. This year we've added four new grantees to the list of organizations that have received funds from Qlarant Foundation. We've now given over four and a half million dollars to fantastic organizations like these since 2007."
This year's grant recipients include previous grantees Access Carroll, Inc., Breast Care for Washington, D.C., Channel Marker, Inc., Community Ministries of Rockville, Help and Outreach Point of Entry, Inc., La Clinica del Pueblo, Maryland Foundation of Dentistry for the Handicapped, Miriam's Kitchen, Mission of Mercy, and University of Maryland Medical Center's Breathmobile. All of these organizations are dedicated to providing health and human services to underserved populations. First time grantees included Eastern Shore Wellness Solutions, University Legal Services, Inc., as well as Shirley Grace Pregnancy Center, Inc. and Girls in the Game; the latter two were honored for their commitment to women and young girls. Also attending the ceremony were Delegate Johnny Mautz and Senator Addie Eckardt. Sen. Eckardt presented citations to the organizations in her district.
During the luncheon, catered by Blue Heron Catering, the grantees were given the opportunity to present a summary of their organizations' work and successes followed by workshops focused on partnership and networking.
"Our Foundation Grants Event is one of our favorite parts of what we do at Qlarant," said Deb Keller, Qlarant Vice President. "Our ability to do the good work that we do and provide support for even more positive impacts to the community is what makes Qlarant so special.
About Qlarant Foundation
Qlarant Foundation is the philanthropic arm of Qlarant, a not-for-profit nationally respected leader in fighting fraud, waste & abuse, improving program quality, and optimizing performance. The organization was founded more than 45 years ago to improve health care and human services for all. Qlarant Foundation is focused on reinvesting in our people and resources to better support our clients' missions. www.qlarant.com/about/qlarant-foundation
If you would like more information about this topic, please contact Glennda Moragne El at 410.872.9632 or email at moragneelg@qlarant.com.