Success Stories: Chapter 7 – UMMS Foundation Breathmobile
posted on June 14, 2019 by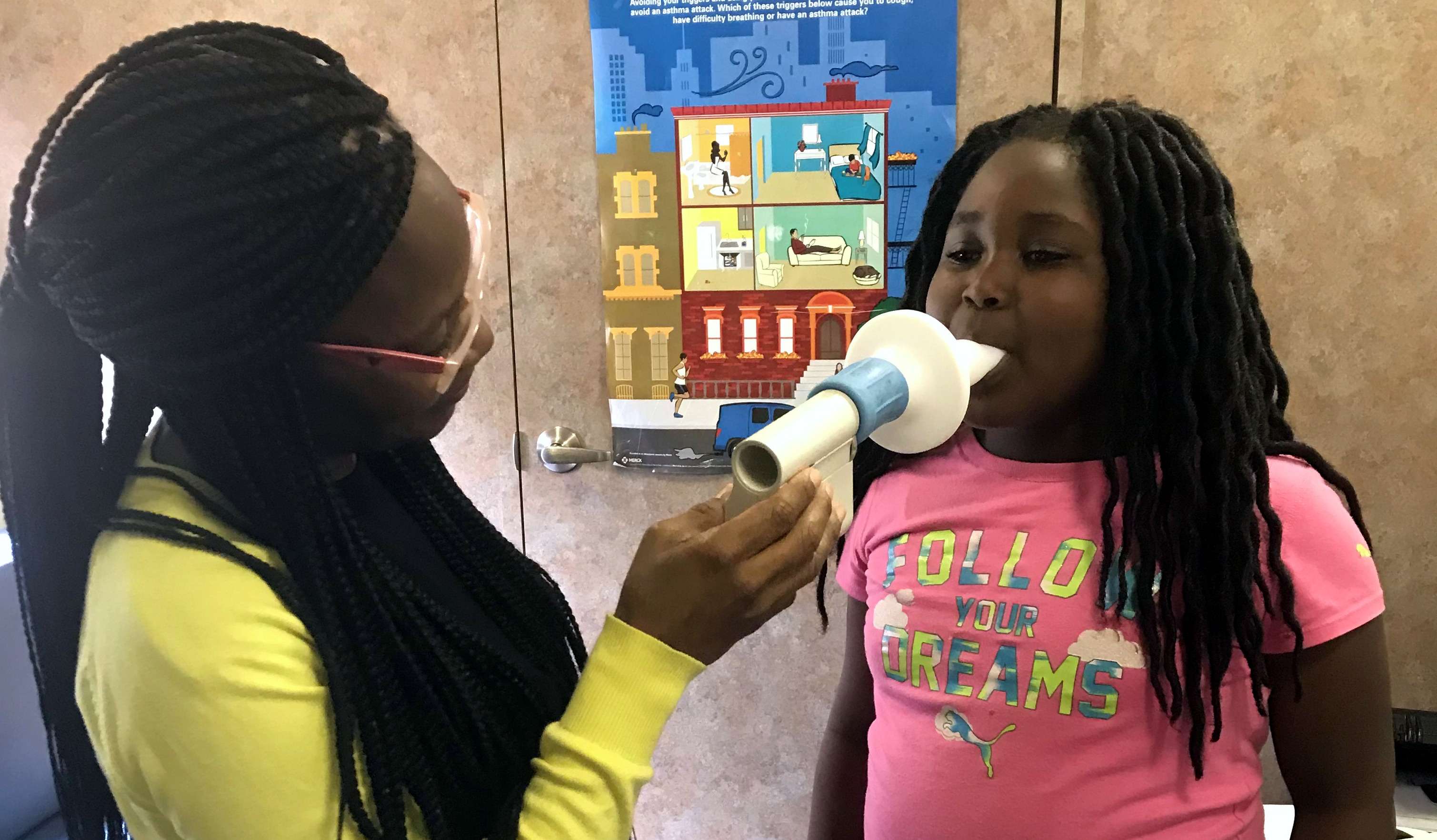 The Breathmobile is a mobile asthma clinic operated by the University of Maryland Children's Hospital that provides free specialty-based preventive care to underserved children in Baltimore City and surrounding communities. The program addresses the significant health disparities in a population of primarily African American children with high asthma related morbidity and limited access to preventive asthma care. In 2018, the Qlarant Foundation continued its support of the Breathmobile Program, providing a grant of $40,000.
Designed to deliver specialized asthma care directly to underserved children at their schools, the Breathmobile is removing barriers to high quality health care for underserved, at-risk children. The University of Maryland Children's Hospital asthma specialists travel with their mobile unit to evaluate and treat asthmatic children identified by school personnel and to develop a patient-centered preventive treatment plan.
Missed school days and time away from work traveling to clinics are reduced by having services come to the children and their families. Educating the patients and their families about how to recognize symptoms and avoid situations that exacerbate asthma is an essential component of the program. The Breathmobile provides guideline based treatment for preventative asthma care. Through their work, the Breathmobile is able to keep Baltimore City and surrounding area schoolchildren healthy, in the classroom, and learning.
The Breathmobile has had a significant positive impact on underserved children with asthma by providing them with the tools to control their asthma and prevent exacerbations. In addition to providing clinical care and education on the unit, the Breathmobile staff also provides ongoing asthma education in the community through participation in school health personnel educational programs, primary care provider educational sessions, community health fairs, and "Back to School nights."
The Breathmobile staff are dedicated to their clients and committed to providing the necessary care to keep their clients healthy. This chapter's Success Stories highlight the extraordinary care provided by the staff.
Success Story #1
A 4-year-old boy who was diagnosed with asthma at one year of age came for his first visit on the Breathmobile after being referred by the school Health Aide.  His Mom shared that he had been waking up due to his asthma on a nightly basis for years, at least as far back as she could recall. Every night he would wake up coughing and wheezing, and had missed a significant amount of school (30+ days at his Headstart) due to his asthma. Mom had missed many days of work due to exhaustion from being up through the night. In addition to his nightly symptoms, he had required emergency care for four flare-ups during the year preceding his first appointment.

On his first visit, he was noted to be on suboptimal controller therapy prescribed by his pediatrician. Additionally Mom was using the controller on an "as needed" basis because she hadn't understood or hadn't received adequate education that his controller was to be taken on a daily basis. Breathmobile representatives ensured that the child was started on proper controller medications and provided his mother with spacers to use with his inhalers for both home and school. They also provided education on how to use them in order to maximize the medication reaching his lungs.

Due to some difficulty reaching the family to schedule follow up appointments, he did not return for 3 months. At that visit, his mother reported giving his controllers as prescribed since his first visit, which led to a complete resolution of his symptoms. He had not missed any days of school in those 3 months; he was sleeping soundly at night (and feeling much happier during the day!) and able to exercise like a healthy 4 year old boy.
While a simple change in frequency of treatment may seem like a small matter, for this mother and child, it made all the difference in the world. Their lives were greatly improved almost instantly by the Breathmobile's services and education.
Success Story #2
A 6-year-old girl who had been followed regularly by the Breathmobile had a recent lapse in her insurance coverage. She has severe asthma with frequent awakenings at night due to asthma symptoms. Although she has always had issues with adherence with taking her preventive asthma medications, the insurance lapse left her with no asthma medications at all.

When the Breathmobile team was called by the family, the team's Nurse Practitioner drove to the patient's school and dropped off asthma medications for her since the family did not have transportation to get to the Breathmobile right away. This prevented her from having to go to the Emergency Room due to lack of medications.

This is just one of many examples of the personal care that the Breathmobile patients have experienced. The care demonstrated by this Success Story shows how vital these treatments are for the young patients served by this program.
Success Story #3
For many years, a school nurse had seen one of the students numerous times for asthma flares. The 9-year-old boy had very poorly controlled, severe, persistent asthma. He also dealt with being one of five siblings and many competing social issues, including living in substandard housing with significant asthma triggers. The boy had been admitted to the Intensive Care Unit twice for asthma, making him high risk for a fatal asthma attack.

During a recent episode, the school nurse referred him to the Breathmobile. Despite the referral, the family did not follow through and make an appointment. Following another asthma flare, the boy was once again in the health suite. He did not have any rescue asthma medications in the school and had no asthma medications at home at all. This happened to be the day the Breathmobile was on site. His mother was contacted to pick him up due to his acute asthma flare and she was given the option of having him seen on the Breathmobile for an unscheduled visit. She agreed to have him seen that day.

He was treated by the Breathmobile team for the acute exacerbation and was also given the appropriate preventive and rescue asthma medications for home as well as rescue medications for the school. Amazingly, the entire family (Dad as well) came to the follow-up appointment and he was doing well! The school health suite hasn't seen him at all for his asthma since he started being followed by the Breathmobile to assure that he continues to get the appropriate preventive asthma care.

These are just three of the many Success Stories celebrated through the benefits of guideline based asthma care and thorough patient/family education about asthma management.
Helping the children is a "labor of love" for the Breathmobile staff. Their dedication and willingness to do what it takes to treat asthma has make a huge difference in the lives of many children and their families. Lisa Bell, Nurse Practitioner on the Breathmobile believes, "You can control asthma if you follow your action plan and know your triggers. It doesn't have to be a struggle. That's why we are here. To see kids who have been sidelined because of asthma get treated and be able to play sports and join other activities – it is very rewarding."