50 Years in Healthcare and Counting
posted on January 30, 2023 by
2023 marks the year of the rabbit, and Qlarant's 50th year in business. Qlarant was one of the country's first quality review organizations for the Centers for Medicare & Medicaid Services (CMS) and has grown to become a venerable company defining the industry. A lot has changed in the last 50 years. A lot for healthcare, a lot for technology, and a lot for us.
An industry that began as a few doctors serving on review boards around the nation has blossomed into a nationwide, multi-region network of program integrity and quality improvement companies working hard to prevent fraud, reduce waste, and improve services in our healthcare system.
The first body part to be imaged by modern MRI scanning techniques was one year after Qlarant's founding, in 1974. Proliferation of technology brought many new advances in testing, medical equipment, and techniques. As advancements brought about more sophisticated medical practices, so did opportunities for theft and abuse in the system.
A lot of work needed to be done to reduce fraud. While states joined together to create the National Association for Medicaid Program Integrity in 1985, companies like Qlarant fought fire with fire.  As technology expanded, Qlarant transformed itself from a policy and compliance powerhouse to a technology leader. CMS began expanding coverage options for pregnant women, hospice beneficiaries, and others. Computer technology gained a more prominent role as electronic payment processing became a necessity. Medigap and other expanded coverages, along with the introduction of HMOs, led to more claims being faxed in and processed by computers. CMS found itself employing the services of Peer Review Organizations, like Qlarant, during the 80's Information Age.
The 1990s would be a decade of broad expansion and urgency. The Information Age was drawing to a close just as the first high performance computing servers began challenging the reign of mainframe computing. As programmers were panicking about Y2K, a flurry of legislation was passed. HIPAA was signed into law, followed by the Children's Health Insurance Program which brought about Medicaid changes for states.
We survived Y2K and watched as the Medicare Prescription Drug Improvement and Modernization Act was passed in 2003. The Digital Age brought about a host of new fraudulent behaviors and rules-based, algorithmic detection techniques saw widespread use. By mid-2006 Medicare prescription drug coverage was made available for 39 million beneficiaries. As the only company to perform FWA work on all Medicare Parts A through D, Qlarant would see graft, pill-milling, and other fraudulent activities proliferate as more billing systems became digitized.
50 Years Requires More Than Staying Power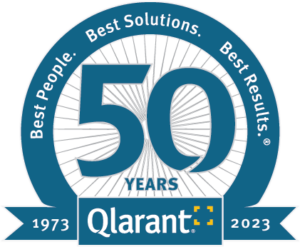 Not many products and companies stick around and make an impact after 50 years. The Honda Civic is still on the road. The book, All Creatures Great and Small, is 50 years old and is getting a new BBC adaptation. The Godfather still holds up and remains a classic. And, love 'em or hate 'em the McMuffin is 50 years old.
To thrive in a dynamic and shifting country like America for 50 years, you have to have more than staying power. You need a keen insight to focus on what works, while remaining flexible enough to adapt to changing needs. At Qlarant, our focus is on our customers. Great customer service will always remain a classic and be high in demand. We also adapt to the ever changing landscape of healthcare and adopt the tools and techniques to combat evolving behavior.
The 2020s have brought us to the threshold of the AI Age and the rise of data science in all aspects of life. Our team has come a long way from depending on rules-based algorithms to adopting predictive analytics to detect fraudsters. Our talented workforce has adapted to changing realities in healthcare claims processing, and almost one-fifth of our staff are data scientists and analysts. As fraudsters try out new ways of abusing healthcare spending, our engineering teams combat their operations by building smart software solutions like RIViR which combine new AI/Machine Learning techniques with tried-and-true, customer-service.
As Qlarant turns to face a Brilliant Future, RIViR kicks off our 50th year paying homage to our Bright Past. A future of serving our customers with RIViR fits in with the times: Artificial Intelligence + Human Intelligence = Better Outcomes.