Qlarant Gives Single Father a Christmas to Remember
posted on December 24, 2018
Easton, Maryland; On Friday December 14, Qlarant associates gathered to help load dozens of boxes into a Neighborhood Service Center box truck. The boxes contained a very Merry Christmas for one Talbot County family.  Each year, the people of Qlarant, a Talbot County top employer, donate gifts to help a local family in need. This year's giving exceeded all expectations.
Qlarant associates gathered and celebrated the season of giving by greeting Neighborhood Service Center representatives and helping to load their truck which was nearly too small to hold the gifts. The Neighborhood Service Center is a non-profit Community Action Agency that has provided services and assistance to hundreds of low-income families and elderly residents in Talbot County Maryland for nearly 50 years.
"We've participated in this program for many years but this year was unique," said Lisa Blanchfield, the Qlarant associate who organized the collection. "When we found out our family was a single father with six children, we knew we had to come together in a big way to make sure this man had some help and these kids had a wonderful Christmas."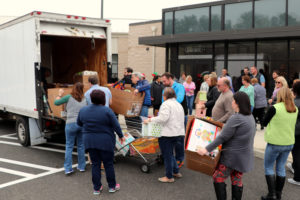 In addition to toys from the children's wish lists, Qlarant workers brought clothing and coats for everyone in the family as well as household cleaning items, diapers, food, and even a Christmas tree and other decorations. With money raised by weekly lunchtime events, the group also included over $700 in gift cards and cash. Not to be outdone, the associates were joined by a donation from the company of a laptop for the father and five iPads for the children each loaded with 60 no-internet-required games.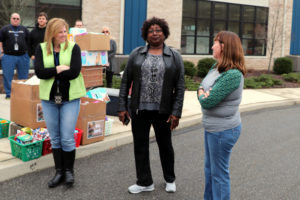 The outpouring of generosity overwhelmed Neighborhood Service Center Executive Director, Marilyn Neal. As the truck arrived, she was seen shaking her head in amazement. Upon exiting the cab, she loudly declared that the Qlarant associates "were not going to make [her] cry!" as she wiped her face while tightly hugging Blanchfield.
"This father is doing his best to support his children and asked for nothing for himself. Our associates responded in an absolutely outstanding way. I'm just so proud to be a part of this group," said Blanchfield.
About Qlarant
Qlarant is a not-for-profit nationally respected leader in fighting fraud, waste & abuse, improving program quality, and optimizing performance. The company uses subject matter experts and innovative data science and technology to help organizations see risks, solve problems, and seize opportunities. Solutions are customized for health and human services organizations, government agencies, and financial and insurance companies. Qlarant employs nearly 500 people and has a 45-year record of accomplishment improving the performance of some of the Nation's most important programs. In addition, the Qlarant Foundation has provided over $4.5 million in grants.
If you would like more information about this topic, please contact Pat Boos at 410.819.3553 or email at boosp@qlarant.com.  For more information and to view the video go to www.qlarant.com