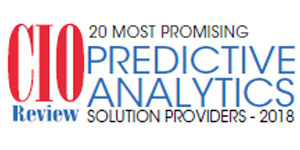 CIOReview Magazine
From CIOReview.com
CIOReview, a technology magazine, has been at the forefront of guiding organizations through the continuously disruptive landscape and providing enterprise solutions to redefine the business goals of enterprises tomorrow. CIOReview offers a ground-breaking platform allowing decision makers to share their insights, which in turn provides both budding and established entrepreneurs with analyses on information technology trends and a better understanding of the environment.
The predictive analytics technology ecosystem is filled with countless solutions, which makes selecting the right solution provider a cumbersome process for CIOs.
CIOReview's distinguished panel of CEOs, CIOs, CTOs, industry analysts, and the editorial board of CIOReview has narrowed the final 20 predictive analytics solution providers that exhibit competence in delivering the best-in-class predictive models.
Qlarant is pleased to be included in CIOReview's top 20 Predictive Analytics Solutions Providers for 2018.